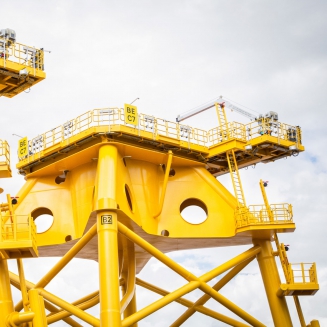 Seaway Heavy Lifting a accordé Smulders le contrat pour l'ingénierie, acquisition, construction et installation de 28 fondations jacket pour le Beatrice parc d'éoliennes.
Smulders joint Bladt et BiFab qui fabriquent les 30 et 26 jackets restants pour ce projet.
Le Beatrice parc d'éoliennes contiendra 84 Siemens turbines avec une capacité totale de 588 MW. Le parc d'éoliennes sera construit dans l'Outer Moray Firth, à la côte nord de l'Ecosse et produira énergie pour environ 470.000 familles.
La production commencera plus tard cet année dans les facilités de Smulders. L'installation offshore est prévue pour 2017 et 2018.
A propos de Beatrice:
The £2.6bn Beatrice Offshore Windfarm Ltd (BOWL) project has been given the green light for construction by owners SSE (40%), Copenhagen Infrastructure Partners (CIP) (35%) and (25%) after reaching Financial Close on 20 May 2016. The project will be one of the largest private investments ever made in Scottish infrastructure.
Info du projet:
Client: Seaway Heavy Lifting
Wind Turbine Type: Siemens SWT 7.0 MW
Scope: 28 fondations jacket