Corrosion Protection Responsible
Arendonk
Full-time and permanent position (operating base: Arendonk)
Smulders is an international organization with almost 900 employees working at five branch offices: Iemants, Willems, Smulders Projects, Smulders Projects UK and Spomasz. We are a sound and flexible business partner, offering more than 50 years' experience in the engineering, construction, supply and assembly of steel constructions. Smulders helps to realize unique and challenging projects in three different market segments: Offshore Wind, Offshore Oil & Gas and Civil & Industry.
Smulders is a member of the Eiffage Group, a leading figure in the European concessions and public works sector operating through four business lines: Construction, Infrastructure, Energy and Concessions.
Mission
You are awarded to a project team in which you are responsible for the project corrosion protection related activities.
Function description
You prepare project specific protective coating documents:

You examine/study contractual customer specifications and applicable standards regarding project coating protection.

You check our standard Smulders coating procedures against the contractual customer's requirements and prepare the project coating documents, such as:

coating fab-order

coating application and inspection procedure

coating ITP and associated method statement

Together with quality project team you organize the necessary steps to obtain the customers' approval of the required protective coating documents.

You monitor the implementation of the approved coating documents in the organization, by:

organizing kick-off quality meetings at all involved production locations and main subcontractors, in cooperation with the QCE-project.

organizing - at the start of the coating activities - the specific coating procedure tests (CPT's) for determining the quality level as described in approved coating ITP, with the local plant coating inspectors and customer's inspectors.

supervising the product coating quality at the various production sites and during all production steps – checking if it is in conformity with the approved coating ITP / procedures and with the most cost-effective work method.

following that all prescribed inspections are carried out in due time.

organizing timely notifications for inspections.

monitoring the daily log and quality documentation of the different production locations.

You monitor the correct qualifications of coating operators and inspectors.

You solve quality issues, by:

submitting derogation requests.

checking all project coating related CAR's and NCR's in cooperation with QA department.

checking that all project coating related NCR's are timely closed.
Profile
You have obtained a Master's degree in Chemistry and preferably a relevant experience in a similar job.

Ideally you are a Certified Nace or Frosio coating inspector level III.

You have an excellent knowledge of Dutch and English. Knowledge of French and/or German could be convenient.

You have great interest in the world of steel.

Due to our project related business, you are flexible in working locations and working hours.

You are able to work independently, nevertheless you also are an excellent team player.

You have good practical insights.

You have strong analytical abilities.

You are capable to set a vigorous administration and reporting.

You have good communication skills in order to communicate smoothly with inspectors of customer and certification body.
Offer
We offer a challenging job, making part of the Smulders group, creating large steel constructions. You will be rewarded with an interesting salary package, including a car and other extra-legal benefits. In order to grow in your job, you will be encouraged to follow several job related courses that will help you to become an expert in your job!
More info & contact:
Katrien Stoffels +32 (0)14 67 22 81 jobs@smulders.com
Apply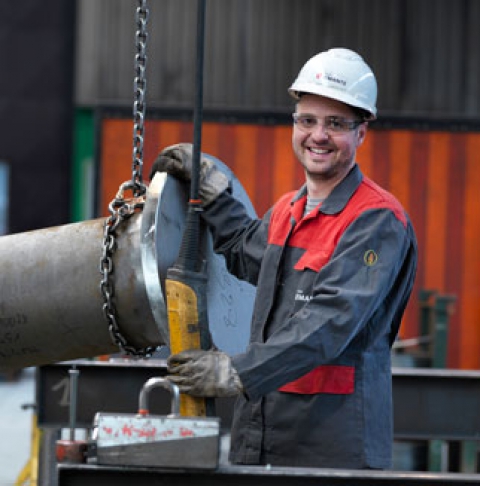 PASSIONATE
ABOUT STEEL